Dear Dr. Harrell and Datamethods community,
We are currently working on deriving a clinical prediction rule for transient ischemic attack (TIA) patients in the emergency department. We are debating about a couple of steps and wanted to ask you to confirm.
Trying to follow modern methods including multiple imputations, restricted cubic splines, and selection of predictors, etc and so following the rms. We have a good sample size of about 10,000 patients with about 900 events (good number of events per parameter).
When we run the fastbw() function on a model with 29 potential predictors, suspected to be associated with the outcome based on clinical knowledge, it gives us 14 factors to keep in the final model. These 14 factors are essentially the last most strongly associated predictors from an ANOVA plot (attached). Our question is, do we have to use all the 14 predictors for our clinical prediction rule (a nomogram)? Based on our needs and ease of use (to integrate with an existing clinical decision rule), we want to select only 9 or 10 of the 14 predictors by looking at the ANOVA plot and selecting the 9 or 10 most strongly associated predictors (e.g., predictors "a" to "i" from the attached plot) instead of all 14.
Is this a "no no" or are we okay by selecting a subset of the significant predictors for the clinical prediction rule? i.e. Is there something that says we must use all the predictors kept by the fastbw? In general, for deriving a parsimonious clinical prediction model does one even need to run the fastbw? i.e. can we just rely on the ANOVA plot, plot(anova(fullmodel)) to pick the most strongly associated predictors that we think would be best for the clinical decision rule.
Another question is that we are deriving the model on all TIA patients we have – would it be abnormal to try externally validate (and possibly update) this model on a subset of patients from another study (those at medium risk of stroke based on another already validated prediction model)? To me it would be just a different setting for the validation but wanted to confirm with you.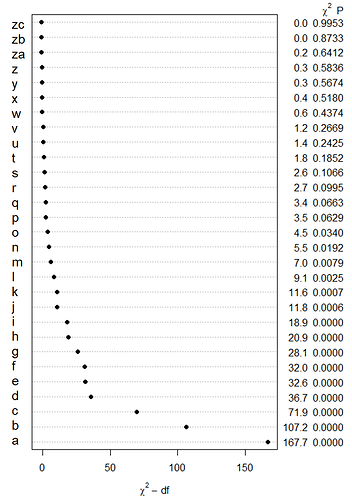 Thank you