A recent cohort study published in Jama Pediatrics investigated the possible association between epidural labor analgesia (ELA) and offspring risk of autism spectrum disorder (ASD). They included 123175 offspring born between 2005 and 2016.
The authors summarize their main finding as follows:
[…] after accounting for maternal sociodemographic, preexisting, pregnancy-related, and birth-specific factors, no association was found between ELA exposure and offspring risk of ASD.
and
Results of this study suggest that ELA is not associated with an increased risk of ASD in offspring.
This is based on the following result:
After adjusting for maternal sociodemographic, prepregnancy, pregnancy, and perinatal covariates, ELA was not associated with an offspring risk of ASD (inverse probability of treatment–weighted HR, 1.08; 95% CI, 0.97-1.20).
This seems like a blatant contradiction to me and another case of null misinterpretation: A non significant finding is interpreted to mean "no association" or "no effect". Let's have a look at the p-value function: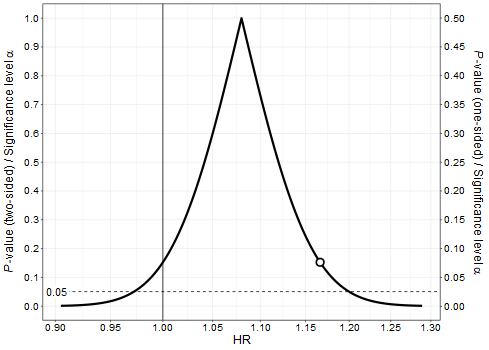 The counternull, the HR that has the same p-value as the null (i.e. HR = 1) is roughly 1.17. Thus, the study supports the conclusion of "no association" with the same amount of evidence as an increase in risk for ASD among the exposed of 17% (it offers roughly 2.73 bits against both hypotheses). The p-value function also shows a high compatibility with HR > 1 compared to HR < 1.
Disclaimer: My discussion is solely based on the information in the abstract, as I don't have access to the full paper. Maybe the authors are more careful and nuanced in the main text.