Dear all,
I am performing an observational study which includes several thousand patients. I plan to run a survival analysis with the competing risk. My planned outcome is reoperation. My current data frame is as follows.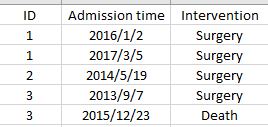 As you see, there is no event column which is a requirement for survival analysis. I am wondering whether I could use several codes (e.g. R) to create a column which includes first operation, second operation and death. Or I have to add this column to each observation manually.
Thank you for your time and Happy New Year!
Lingxiao