I not so fimiliar with this as I used to adopt age as a single continous variable all the time. I am trying to figure out the appropriate knot number and cut-off of age to be used in my model for 6 months mortality. By the default rcs function, here I tried with knot 3, 4, 5. I am not sure should I use 3 or 4 as the knot or should I just input the age as continous factor like before.
And as shown below, the default cut-off age are not the ones we commonly applied. Should I mannually set the age cut-off close to the knot ones? Such as for with 3 knots, I should set perhaps 30, 65 and 85; and for with 4 knots, I should set perhaps 20, 55, 70, 90? Because I saw people using the restricted cubic spline and their cut-off value for the age are quite "clean".
And a minor issue is that I cannot find a way to plot the x-axis in smaller increment, the age here starts from 16 year old.
And I can only upload one picture now, I uploaded the one with 4 knots. The picture with 3 knots is quite linear.
(picture with 3 knots, quite linear, cannot upload picture now)
Blockquote
Assumption Parameters d.f.
Age rcspline 27 63 87 2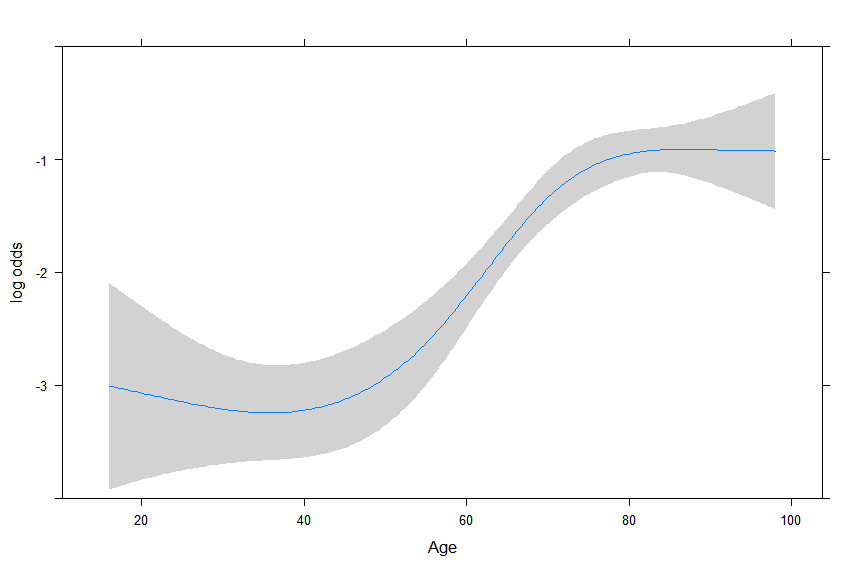 Assumption Parameters d.f.
Age rcspline 22 55 71 89 3
(picture with 5 knots, quite a strange shape, cannot upload now)
Assumption Parameters d.f.
Age rcspline 22 49 63 76 89 4
I asked the same question in cross validated where three picture can be seen