Cumulative vs. Sequential Logistic Regression
The cumulative logistic regression model is commonly applied for ordinal outcomes in the medical literature.
On the other hand, this fascinating article describes the sequential logistic regression model:
For many ordinal variables, the assumption of a single underlying continuous variable, as in cumulative models, may not be appropriate. If the response can be understood as being the result of a sequential process, such that a higher response category is possible only after all lower categories are achieved, the sequential model proposed by Tutz (1990) is usually appropriate.
Sequential models assume that for every category k there is a latent continuous variable Yk that determines the transition between the kth and the k + 1th category.
I can imagine multiple clinical outcomes suiting these definitions, e.g.:
Symptom scales (e.g., pain, nausea).
(Partial) proportional odds vs. Category-specific effects
Biostatisticians usually assume either proportional or partial proportional odds when using the cumulative logistic regression.
Interestingly, the paper mentioned above also discusses category-specific effects, described as: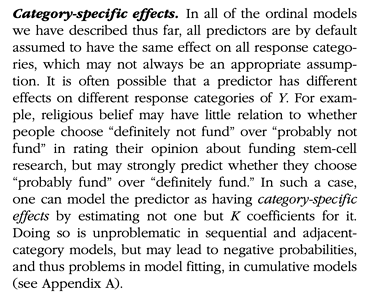 Questions
I have never seen the sequential model with/without category-specific effects applied in the medical literature.
What do you think?
What are the drawbacks?
Why should one apply the cumulative (partial) proportional model instead of the sequential with category-specific effects?
Have you read any article in the medical literature talking about it?
Thanks!