I'm trying to build a score system as a predictive model for survival. I've read many articles that applied the shrinkage correction to allow for small amount of overfitting when building a score system.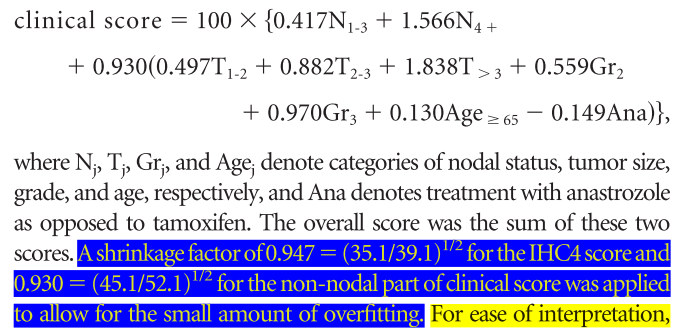 I want to know how to calculate the 'shrinkage factor'.
Thank you,
Lin
Reference
Dowsett M, Sestak I, Regan MM, Dodson A, Viale G, Thurlimann B, et al. Integration of Clinical Variables for the Prediction of Late Distant Recurrence in Patients With Estrogen Receptor-Positive Breast Cancer Treated With 5 Years of Endocrine Therapy: CTS5. J Clin Oncol. 2018;36:1941-8.
Cuzick J, Dowsett M, Pineda S, Wale C, Salter J, Quinn E, et al. Prognostic value of a combined estrogen receptor, progesterone receptor, Ki-67, and human epidermal growth factor receptor 2 immunohistochemical score and comparison with the Genomic Health recurrence score in early breast cancer. J Clin Oncol. 2011;29:4273-8.