The goal is to evaluate the impact of an intervention on children's BMI before and after the intervention. Ideally, evaluations should occur at three distinct time points (t1, t2, t3). However, the available data exhibit unbalanced repeated measure design, some children evaluated only once during t1, t2, or t3, others assessed twice during t1/t2, t2/t3, t1/t1, t2/t2, and some evaluated at all three time intervals.
Additionally, this is a multi-center study. Not all centers provide both before and after intervention data. For before intervention, I have 100 observations from children in NY, 200 observations from children in Puerto Rico, 150 observations from children in Utah. For after-intervention period, I have data from children in Michigan, Georgia, and Ohio.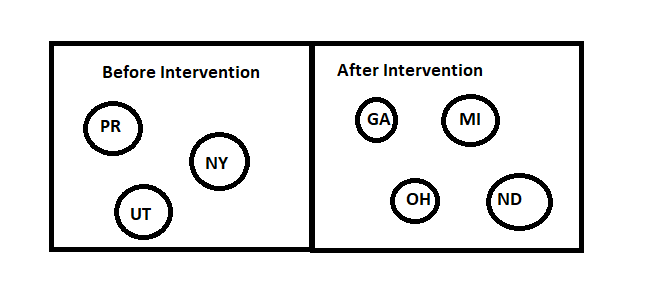 Given the clustered nature of the data and the mismatch between before and after intervention data across different centers, I am uncertain about the most appropriate model to fit. Would an autocorrelated time series model or a mixed-effects model be more suitable for this unbalanced repeated measure, multi-center intervention study?