As an antidote to the overweening inductivism of EBM, I have previously advocated that we direct more attention to the theories underlying medical therapies, and devote more effort to their critical examination. Stimulated by the recent social-media kerfuffle over thrombolysis in acute ischemic stroke, I licensed the NINDS data with the intent to pursue a model-based examination of the penumbra theory that underlies this therapy.
In my initial graphical exploration, however, I've uncovered rather less evidence than I'd expected for an impact of thrombolysis on infarct volumes by CT imaging. Here's the full exploration at my public GitHub repo, where you'll also find code for the analysis and data preparation. (I cannot distribute the data, unfortunately, but perhaps I could get a collaborator added to my license reasonably quickly.) The short story is basically that empirical cumulative distributions of infarct volumes look like this, even after restricting attention to the most common single type of stroke (cardioembolic):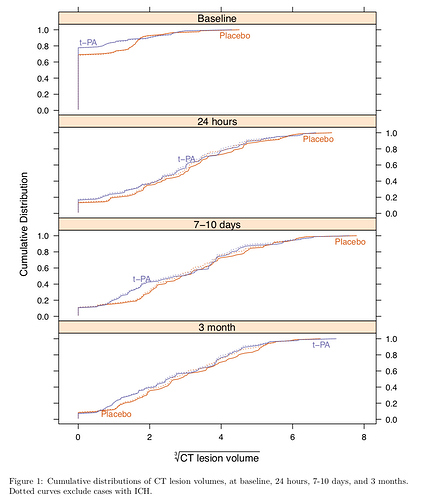 This greatly dampens my enthusiasm for investing effort in formal modeling, but I'm acutely aware that I lack detailed knowledge of stroke imaging that may be necessary for the efficient extraction of information from the infarct volume measures in NINDS. Would anyone be aware of prior attempts to examine the penumbra theory in this manner? Would anyone with more domain expertise care to collaborate with me on this analysis?