Discussed yesterday at both the highest and lowest levels … https://www.nytimes.com/video/us/politics/100000007046134/trump-fauci.html
… this study [1] apparently dichotomized a PCR cycle threshold C_t such that C_t \ge 35 was deemed a NEGative result, and then analyzed the POS/NEG dichotomy to produce this graph which was "impressive" to some, but "anecdotal" to others: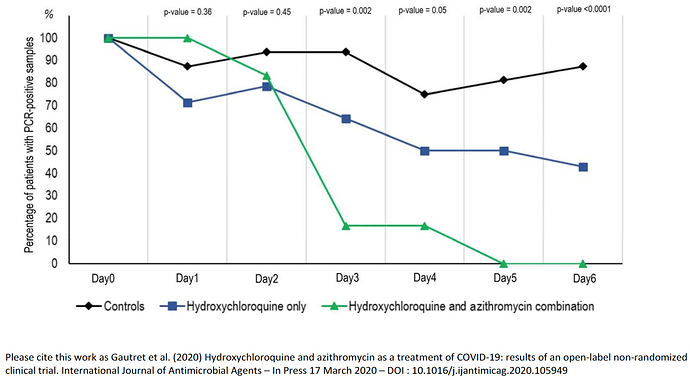 I had logged comments yesterday at medRxiv and PubPeer, but also wanted to highlight this matter in this forum, as it presents an opportunity for statisticians to offer timely criticism and do some good.
How robust is this plot to small changes in the C_t cutoff? What if (as I suggested in comments linked above) one were to impute POS to any of the (false-)NEG results [highlighted pink below] that was followed by a subsequent POS?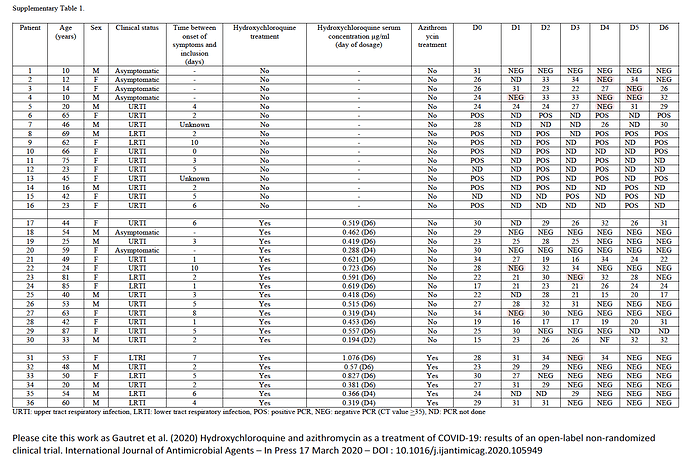 Gautret P, Lagier JC, Parola P, et al. Hydroxychloroquine and Azithromycin as a Treatment of COVID-19: Preliminary Results of an Open-Label Non-Randomized Clinical Trial. Infectious Diseases (except HIV/AIDS); 2020. doi:10.1101/2020.03.16.20037135