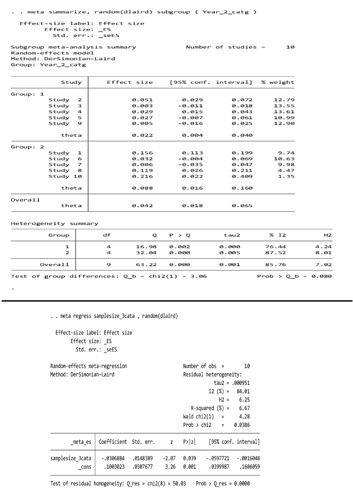 Dear Scholars,
I hope you all are well. I am doing a proportion meta-analysis in Stata. I need to double-check whether I did the subgroup analysis and meta-regression correctly. Actually, I am new to this forum, Stata and Meta-analysis. Therefore, I have more questions than answers.
Could someone with the knowledge of Stata and or meta-analysis be kind enough to comment on my output, please? I'll be grateful. I have included only one subgroup analysis and covariate (meta-regression) here. However, in the final analysis, there are four subgroups and four covariates. I'll start interpreting the output once I receive some feedback.
Thank you for reading the post, and I look forward to hearing from some scholars soon!
Kind regards,
Junaid.