Authors try to assess the influence of cannabis on psychosis, and use a two arm design:
Arm A = patients in a clinic (+ self reported cannabis use)
Arm B = general population (+self reported cannabis use)
Published in the Lancet
Participants in arm A turn out to use more cannabis (and more of everything else: more tobacco, more stimulants, more alcohol, etc.) and are more psychotic, hence, "assuming causality", the cannabis caused he psychosis.
Problem is that the arms are defined based on the outcome. This strikes me as weird.
I have many more axes to grind with this study, but let's go step by step!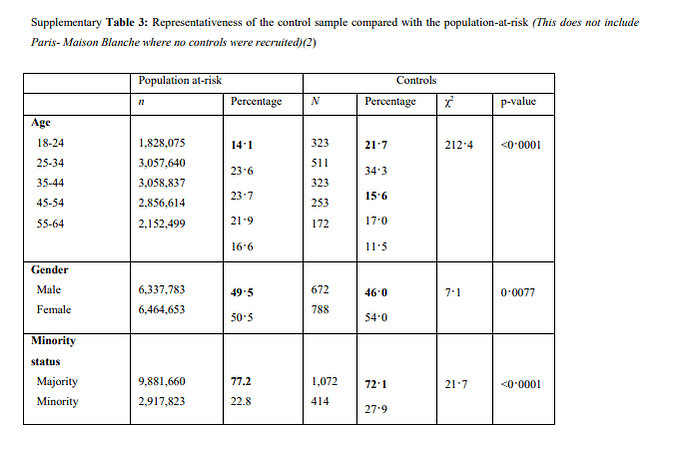 They did look at representativeness looking at age, gender, enthicity (sort of) and (not in this table) education, all fine, but that's imho not the issue.Point is your comparing people with psychosis to the general population and attrribute the difference to 1 of the factors that you happen to measure. But probably the cases and the controls have a different genetic make up. Also I wouldn't be surprised if the cases have lower incomes, more stress, etc etc.
Shouldn't you compare like with like?
(For the record, I am an advocate of cannabis legalization because that is imho a better way to protect public health than prohibition, especially for vulnerable people. This may of couse mean I have a different confirmation bias, therefore I welcome critical voices
)
Any comments? Thanks.